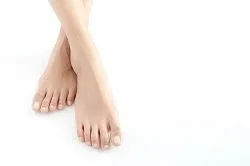 The nails usually grow at a rate of a few millimeters each month, a normal biological process. But when they are ravaged by fungus or damaged due to injury, they may stop growing. In some cases, applying an antifungal topical cream or waiting for the nail to regenerate after a while can help, but in other cases you may need a nail reconstruction treatment. This is a solution that you can learn about when you visit a podiatrist who specializes in nail restoration.
Why Nail Reconstruction?
The nails are made of a strong, biologically created protein-based material called keratin. When a nail is healthy, it covers the entire nail bed and has a pink appearance. But some patients struggle with a fungal infection of the toenails that cause them to deteriorate, turn yellow, and flake. In some cases, the toenail loosens or completely falls off of the nail bed. Sometimes part of the nail has to be removed due to an injury. In these cases, nail reconstruction can help.
An Option for Restoring Your Nails
Nail restoration solutions are available that can give you back your toenails after partial or full nail tissue loss. A procedure called the KeryFlex Nail Reconstruction System can provide you with a natural-looking, cosmetically pleasing nail replacement that will help you regenerate new nail tissue over time. It's non-porous, sanitary, and provides protection during antifungal toenail treatments.
Healthy Nails Are Possible
You don't have to settle for unattractive, damaged, or fungus-ridden toenails. A podiatrist can restore your healthy nails with a KeryFlex treatment or similar solution. A nail reconstruction can be completed in just one visit so you won't have to wait long to have a full, beautiful set of toenails again. You can polish your nails, apply acetone if needed, and wash your toes normally knowing that they will remain intact.
Where to Have Your Nail Reconstructed
See a specialist at The Nail Restoration Center in McLean, Ashburn, Fairfax, and Reston, VA to improve the condition of your toenails and protect your feet. Call the office today for a consultation with a podiatrist who is familiar with nail reconstruction.
Are you interested in nail reconstruction?
Call Nail Restoration Center at one of our many Northern Virginia Locations to learn more about your options!